NEW Missoula Hotel Alternative & Short Term Lodging
More and more people are choosing custom lodging options over hotels when they travel. These savvy travelers are finding that Vacation & Short Term Rental options offer way more for the same price (and are sometimes much cheaper!). Missoula Vacation Rentals and Short Term Rentals are quickly becoming the only way that many couples and familes choose to travel to Western Montana.
Choosing to stay at the Wilma Condo means that your nightly cost will go down the longer you want to stay. Plus, you now have the option of cooking your own meals (especially breakfasts and packing lunches) in the fully stocked kitchen. Think of the money you'll save just by getting a few food items for the mornings!
Included in your rental is a reserved parking lot pass, a fully secured building in the heart of downtown Missoula, and stunning top-floor views that you'd never have from your hotel room. The unit is professionally cleaned and features a brand-new entertainment system with HD Television programming, a massive library of movies for rent, a Playstation 3 video game console, secure Wi-Fi, and unlimited local and long distance calling.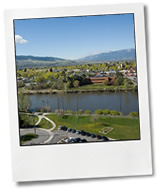 Have questions?
Contact Us and we'll do our best to help. Also, be sure to check out The Condo page for more information and the Gallery page for a number of detailed photos.
The Wilma Condo is just one unit and is locally owned and operated. We hope to make your stay as comfortable as possible. But don't just take our word for it, read our reviews for stories and comments from our past guests.
Availability
Use the Calendar below to determine if the Wilma Condo is available for the days/nights you have in mind.
Your browser does not support some of the content on this page. Please visit this link to see what you are missing:http://www.homeawayconnect.com/calendar.aspx?propertyid=284961&culturename=en-US&mode=1